If there was a way to guarantee cleaner indoor air in your home, reduce the risk of unknown HVAC issues occurring, and save you money, would you take advantage of it? These are just a few advantages of having an annual maintenance plan for your heating and air conditioning system. It is no secret that heating and air conditioning systems come at a rather high price tag, so keeping them in tip top shape is one of the best things you can do as an investment in your home or business.
HVAC Annual Maintenance Plan Benefits
Consistency is key in keeping up with your home or business. Like most things in life, prevention is a much better option than paying to repair future issues down the road. Performing routine checks on your heating and air conditioning system is beneficial to the overall health of your HVAC system and your home or business. Building an ongoing relationship with a knowledgeable heating and air conditioning technician has proven to be very beneficial when dealing with issues of your HVAC unit.
Your heating and air conditioning system really never gets a break in the south. It is important that you know that your system is going to work when you need it most. With an HVAC annual maintenance plan, our team at Coastal Home Services will know the entire history of your heating and air conditioning system and can replace things on your unit before they go bad and cause even larger issues. This ensures that your system will be reliable. The investment in a maintenance plan will also save you money in the long run and ensure that your HVAC unit remains in the best condition for as long as possible. Additionally, having an ongoing relationship with our team will put your needs at a high priority. If major issues ever arise, we will deal with them immediately. Our preventative maintenance plans start as low as $65/month and include:
Exclusive discounted rates on replacement unit change-outs during the contract period
Bi-annual service maintenance
Complete operating system inspection, lubrication, calibration, and tuning
24 hour emergency and priority service
Routine air filter replacements
Fill out an inquiry form on our website or call us to sign up for our Service & Preventative Maintenance Plan!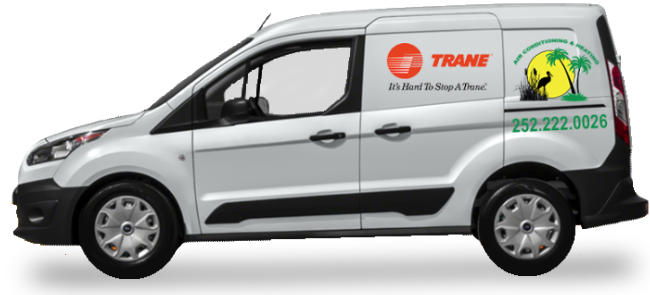 Coastal Home Services Annual HVAC Maintenance Plan
Our professionals at Coastal Home Services have been serving the Crystal Coast of North Carolina for more than 13 years. We can attest to the integrity and importance of annual maintenance plans for our clients' homes and businesses. If you currently receive service from our team, we appreciate your business and would love to grow our relationship with you even further. If you are looking for an NATE certified HVAC company you can trust, you are in the right place! Whether you're looking to cool down an open space like a church sanctuary so people stay comfortable in the pews or just your home, we can help. Call us to speak to a knowledgeable team member about developing an annual maintenance plan for your home or business today.
Our Trane® certified team would love to talk with you about scheduling your first annual maintenance visit. Call us today! As your #1 provider for heating and air conditioning service on the Crystal Coast, we always offer a 100% satisfaction guarantee and stand by our work. We look forward to speaking with you and improving the air quality health of your home or business!