Living on the coast has its benefits. Easy access to the beach, beautiful scenery, and some of the best fishing in the world are all enjoyed by residents on the crystal coast of North Carolina. As the #1 HVAC provider on the crystal coast, Coastal Home Services often gets questions about some of the common HVAC problems that can occur near the coast. In this resource you will find some of the most common problems that we encounter with customers' HVAC systems on the coast. 
If you are having problems with your HVAC system on the crystal coast don't hesitate to reach out to Coastal Home Services today! Our friendly technicians are standing by to help you keep your home comfortable year round. Give us a call or fill out the online contact form below to get the answers to your HVAC questions or to schedule an appointment today.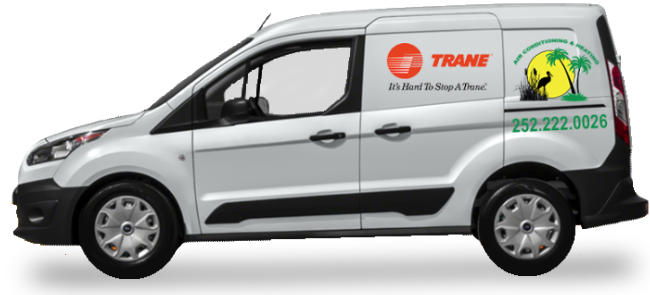 Most Common HVAC Problem Near The Coast
Homes near the coast are under constant attack from the elements. Continuous exposure to wind, sand, salt and humidity can take its toll on your home's HVAC system. The most common HVAC problem near the coast is corrosion. The humid and salty environment near the coast causes air conditioning units to rust at a much faster rate than areas that are less humid. The corrosion typically affects the coils of the air conditioning unit which ultimately causes it to fail. There are a few ways to prevent corrosion and help your air conditioning unit last longer. 
How to make your HVAC system last longer near the beach
Some of the steps you can take to protect your AC unit from corrosion include spraying off the unit with fresh water, constructing a mist barrier that blocks salty sea spray, and applying a rust resistant coating to the important parts of your unit. The easiest way to limit the effects of corrosion is to spray your unit with fresh water from time to time. This will help remove any salt that may be resting on the unit and slow down corrosion. If you have a vacation home near the coast or a beach house, be sure to spray your AC unit with water whenever you visit. 
Having a NATE Certified HVAC technician apply a rust resistant coating, such as Rust Grip, applied to your air conditioning unit is a great way to prevent corrosion. Some studies have shown that Rust Grip can increase the lifespan of an air conditioning unit by as many as 7 years. When you buy a new Trane HVAC system you will Rust Grip coating at no extra charge. If you are interested in having Rust Grip applied to your home's AC unit on the Crystal Coast or you want to upgrade to a new HVAC system, contact Coastal Home Services today. Give us a call or fill out the contact form below to get in touch with one of our friendly HVAC technicians!