It's hard to put a blanket price tag on an AC unit. When your heat or air stops working, you have to diagnose what the problem may be before jumping straight to a new AC unit. You should first contact a reputable heating and air conditioning service company and explain what is going on. Typically, they'll send out a service technician to take a look and diagnose the problem. This could be something electrical, something that can be repaired under your current unit's warranty or you may need a new unit. Companies may charge you an hourly rate to diagnose the issue.
A new unit
If the service technician believes a new unit is needed, you have to decide what kind of unit you need. There are lots of options available. The factors that impact the cost the most include:
Size of the unit
SEER rating (Seasonal Energy Efficiency Ratio)
Brand of unit
Most companies will carry a few options as far as brands go and then the warranty for those may vary. The fist way to figure out the cost is going to be based on the size unit you will need. If your home is around 1,600 square feet (give or take), a 2.5 ton unit will cool and heat well. If your home is in the 3,000-4,000 square foot range, you'll need around a 4 ton unit. There are going to be different models and the cost can range from $3,000 to $12,000. A platinum model may not be necessary and a good technician can help you make an informed decision.
Labor Costs and Additional Costs
In addition to the price of the physical unit, you'll have to factor in the cost of physical labor for the job. The certified technician will have to remove the old unit and then replace with a new one. The number of hours will vary depending on where the unit is located. Labor can vary from $50-$150 an hour. Just like with bathroom or a kitchen update, there are many factors that can increase or decrease the cost of your central air installation cost. Some of these factors are listed below:
Size of your home
Type of Air you need
Ductwork
Insulation
Labor and Materials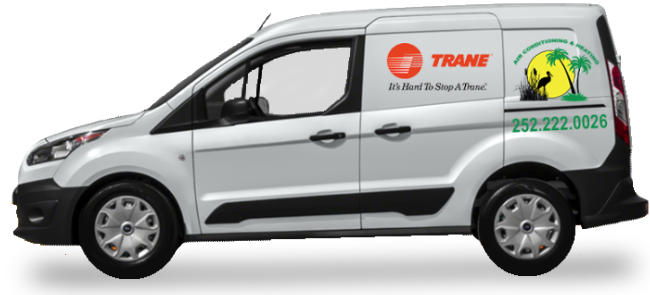 Financing Options for an AC Unit
The cost of getting a new AC unit can be overwhelming and is usually very unexpected. Your service provider may have financing options available. If you do have to replace your AC unit, you can rest easy that you've got several years to enjoy that home repair since warranty usually lasts for quite a while.
Give our Trane® Certified Coastal Home Services team a call if your air conditioning or heat stop working. We can help schedule a certified technician to come and evaluate your issue and help you decide if you need a new unit. Being comfortable in your own home is our top priority.