Is your air conditioner making a funny hissing sound when it is running? Are you unsure what could be causing this? Hissing and unusual noises from any sort of appliance is usually a good indicator that something may be wrong, and hissing from an air conditioner is no exception! Heating and Air Conditioning systems can have a mind of their own sometimes, and it can be tricky to diagnose issues as a home or business owner. Our NATE certified team at Coastal Home Services is here to help. Read on below for information about what can cause hissing sounds from air conditioning units.
Why is my AC unit hissing?
When it comes to home and business appliances, irregular noises are typically not a good thing. A hissing sound coming from an air conditioner could mean a number of things. Our team is very experienced in heating and air conditioning units, and a visit to your home or business would be the most beneficial in treating this issue. Regardless, it is nice to have some sort of idea as to what could be causing the hissing sound, before our professionals let you know for sure. Probable causes could include:
Refrigerant leak – Since the refrigerant lines are always under pressure, when there is a leak, a hissing noise occurs. This noise is the refrigerant seeping out of the lines.
Internal valve leak – This valve is responsible for the pressure of the refrigerant, and if this becomes overpressurized, this could lead to serious issues. 
Compressor issues – The compressor is one of the most expensive parts of an air conditioning and heating system, so any issues that occur in the compressor are considered serious.
Generally speaking, hissing noises coming from your air conditioner indicate some sort of pressure problem and need to be addressed as soon as possible. It is important to act prudently once you realize you are having an issue! Once we come out and assess the issue, we will be able to determine the best plan of action for your system. Ongoing maintenance plans are available with us and recommended to maintain the integrity of your system in the best condition possible.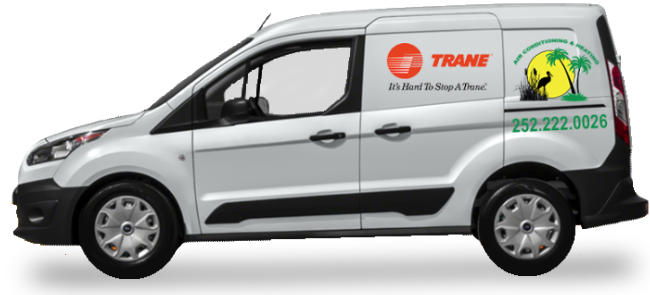 Call Coastal Home Services for your HVAC needs
If your air conditioner is hissing, give us a call as soon as possible! Our Trane® certified skilled professionals are the absolute best people to handle your air conditioning needs and will be able to diagnose any issues you may be having. We look forward to working with you and getting your air conditioner and heating system in tip top shape! Give us a call today!