Heating and air conditioning are two of the most important systems in your home. As we all know, here on the Crystal Coast things can get hot during the summer. Without a properly functioning HVAC system, your home would be sweltering during beach season and freezing cold in the winter. It is important to make sure that your heating and air conditioning systems are up to date and ready to go when you need them. 
If you are in need of a HVAC service company in Morehead City, Coastal Home Services has your back. We can handle anything from installing a brand new heating system to air conditioning system repair. For any problems relating to your home's HVAC system, give us a call and our NATE Certified technicians will be happy to help you keep your home comfortable year round. Call us or contact us through the form below to schedule service or an inspection today!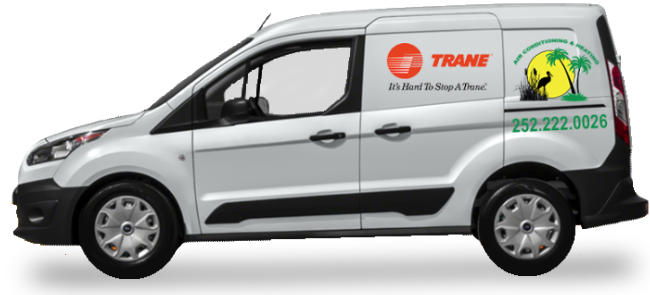 Quality Morehead City Heating and Air Conditioning Service and Repair
Our city is known for its beautiful scenery and rich history. However, it is also known for its hot summers. It is important that your HVAC system is in good condition and ready to work hard all summer to keep your home cool. If your AC unit goes out in the heat of the summer in Morehead City, you need to request emergency HVAC service as soon as possible. If you need a fast response, Coastal Home Services is your best bet. Our team will respond to your emergency service request in as little as 15 minutes. 
Our Trane® certified technicians are dedicated to providing high quality products and services for your home's HVAC system. If you encounter any problem with your heating and air conditioning system, whether it be big or small, the Coastal Home Services team can help!
New HVAC System Installation Service in Morehead City, NC
It is recommended that homeowners with an outdated HVAC system invest in a new system before they start to encounter problems. The normal life cycle of a heating and air conditioning system is between ten and thirty years depending on a variety of factors. System design, wear and tear, environment, and other factors can all affect the life of your system. The humidity and salty air here on the coast, for example, is rough on your HVAC unit. If your system is experiencing problems or over 10 years old, it may be time to start looking into a new system for your home. Keep an eye out for warning signs that your system is on the verge of failure. Here are some common signs that your heating and air conditioning system may need to be replaced:
System won't come on

Warm air while AC is on 

Cool air while heat is on

Uneven heating/ cooling

Odd noises coming from system
If you experience any of these problems with your air conditioning and heating system, it would be in your best interests to have your system inspected. 
Give Coastal Home Services a call today to schedule an inspection with one of our professional technicians. As the #1 Heating and Air Service provider in Morehead City, you can be confident in our experience and level of service. Call us or contact us through the form below to schedule an appointment today.