Are you too hot or too cold in Pine Knoll Shores?

Whether you call Pine Knolls Shores, NC your permanent home or your home-away-from-home, you should feel comfortable while there. North Carolina is known for extremely warm, humid summers and the winters can reach lows that southerners may not expect. No matter what season it is, if you're uncomfortable indoors, you may be experiencing trouble with your air conditioning or heating. Our team at Coastal Home Services is here to help. With over 30 years of experience as a family owned and operated service provider on the Crystal Coast, you can trust that we can get to the heart of the problem and restore comfort to your home. Call us or contact us through the form below to speak to a team member about how we can help you today. 
Rapid Response Time in Pine Knoll Shores
Coastal Home Services has a 15 minute response time. This means you could call for service and head to lunch (or dinner) at Amos Mosquitos or Shark Shack and by the time you arrive, you'll have heard back from Coastal Home Services. All you have to do is call 252-418-8556 and someone will answer, or if you leave a message we'll get back to you in 15 minutes (or less). We also have a 24-hour emergency number so you can call any time of day and you'll hear back from us. This quick response time is one of the many reasons that Coastal Home Services is ranked as the #1 choice for Air Conditioning and Heating Service along the Crystal Coast. 
Quality Products  
Coastal Home Services is a Trane® Authorized dealer and offers a wide variety of Trane products like AC and heating units. Whether you need just a repair or a complete install, you can trust that you'll be getting top notch products and the best warranty to go with it. Coastal Home Services also services all major brands, including Goodman. Our NATE (North American Technician Excellence) certified technicians will help provide you with the best options when it comes to repairs or replacing your HVAC.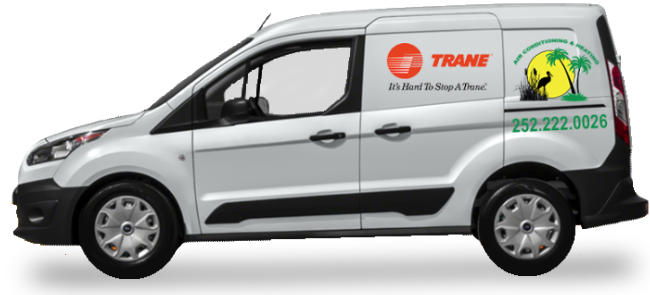 Ductless Split Air Conditioning System
If you are interested in saving money on your AC system and you would also like to allow different rooms to be set at different temperatures, you may want to look into a ductless split air conditioning system. We install these systems for customers all the time as they are becoming more and more popular. This system is much more efficient than a traditional AC system as there is a loss of cool air in a traditional system as the air travels through the ducts. Having this system also allows you to set the temperature of a specific room and maintain that temperature. The ductless split AC system also has other benefits like less noise, no duct cleaning needed, and easy installation. We can easily install this system in homes around the Pine Knoll shores area.
Reliability in Pine Knoll Shores 
Coastal Home Services has been family owned and operated for 13 years and is proud to service all of Carteret County (and beyond). Our offices are 15 minutes away, just over the bridge in Morehead City. Our 24-hour emergency phone number is always available if you need it. We understand that sometimes things go wrong outside of 8 am to 5 pm and there are no additional fees for service on the weekend. Our certified Trane® technicians are always ready to provide the best customer service in a timely manner. 
With over 35 years of experience in HVAC, Coastal Home Services does it all. Our services include: 

Air Conditioning Installation

Air Conditioning Repair

Air Conditioning Service

Heating Services

Smart Home Technology Installation 

24 Hour Service 

Duct Cleaning

Commercial HVAC 

And more! 
Coastal Home Services is always ready to help you with all of your heating and cooling needs for your home or business. We can't change the temperature outside but we can certainly change it on the inside! Call us or contact us through the form below so we can get to work for you today.