No matter if you're vacationing or have a home at Emerald Isle, there's no doubt that you'll have a wonderful time while you're here. The beaches are beautiful and you're away from the "hustle and bustle" of commercial property and bigger cities. The temperature can get pretty high in the summer and the last thing you want is to come home to a house that is hot inside. If this happens to you, you'll want to reach out to the best HVAC company around: Coastal Home Services. Coastal Home Services is located just over the bridge in Morehead City and is rated #1 in Air Conditioning and Heating Services for the Crystal Coast. Call us or contact us through the form below to request service so we can get to work for you asap!
For the Family
Emerald Isle is known for being "the family friendly beach." Only 200 acres are zoned for commercial space, making space for lots of residents. Coastal Home Services also prides itself on being family friendly. For over 13 years they have been family owned and operated. They know Emerald Isle very well and are proud to serve this family friendly community! With over 35 years of experience you can feel confident that their technicians can handle any repair or install needed. 
Top Rated HVAC Products 
Coastal Home Services is proud to offer Trane® and Goodman products. These are reliable, trustworthy brands that provide you with a lasting warranty. Both brands come with a 10 year warranty on the parts and one year warranty on the labor. If you have to invest in a new system, you can feel confident in your new system because you'll have a decade of protection in the products themselves. 
Energy Efficiency in Emerald Isle
Because technology changes rapidly, if you have to get a new HVAC system installed you can pretty much guarantee your energy bill will be lower. If you've recently installed a new system, you may be eligible for a tax credit. Homeowners who replace old and outdated HVAC systems can qualify for tax credits by replacing them with new systems that have high efficiency seer ratings. Tax credits can be claimed by filling the 5695 form. Coastal Home Services is happy to provide you with the documentation you will need to complete the form. Our NATE certified technicians can help explain the benefits of different systems and options to you so you can make an informed decision.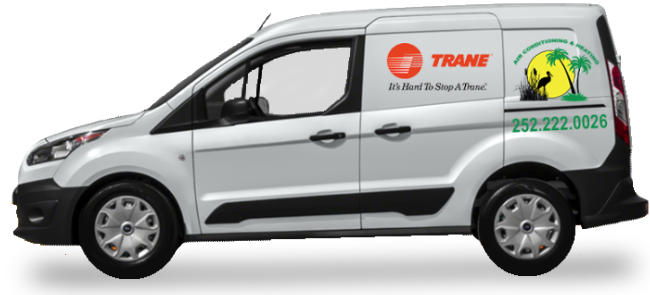 Fast and Efficient HVAC Service in Emerald Isle
You can count on Coastal Home Services to get to you as quickly as possible to help with any HVAC problem that you have. We have a 15 minute (or less) response time. So you can call us, apply your sunscreen and pack your beach bag and we'll be returning your call before you're ready to head to the beach! We also offer a 24 hour emergency service line so you can all any time during the day or night for help. The 24 hour emergency service line is free and doesn't come with hidden fees. 
Coastal Home Services offers a wide variety of services, including annual maintenance plans. These services include: 
New Installation on traditional systems and Mini Split Systems 

HVAC Duct Cleaning

System Change Outs

Heat Pump Repair, and Maintenance

Service Calls on All Brands of Systems

Dryer Vent Cleaning 
If you find your air conditioning or heat is giving you issues, you can count on Coastal Home Services to repair your issue in a timely manner with top notch customer service and dependability. 
Air Conditioner Repair in Emerald Isle, NC
Making sure that your air conditioner is working properly is vital to enjoying a cool and comfortable summer in Emerald Isle. Summers on the crystal coast mean high temperatures and a serious need for a functioning air conditioner in your home. If your air conditioner is struggling to keep your home cool it may be time to enlist the help of some air conditioning repair experts. Coastal Home Services offers air conditioning repair services in Emerald Isle. Our team of friendly technicians will determine what is plaguing your air conditioning system and develop a plan of action that will get your AC up and running as soon as possible. We will never recommend a new system unless it is absolutely necessary. We are not only here to help you stay comfortable, but also to help you save money.
Air Conditioner Replacement in Emerald Isle, NC
If your AC unit is in very poor condition, we will recommend having a new system installed. As we have said before, we only suggest doing this if it is absolutely necessary and it is your only option. We try to save customers money whenever we can, but sometimes getting a new system installed is your only solution. Luckily, Coastal Home Services has been installing new AC systems on the crystal coast for years. Our professionals will evaluate your current system and if a new one is needed, we can have it installed for you in no time. As the summer months start to come around, you will be glad that you made the decision to replace your AC unit. Emerald Isle can go reach the high 80s and 90s overnight during the summer months, so you will want to be prepared with a working AC unit.