Having issues with your heating or ac system? No one wants to feel uncomfortable in their own home. Not to worry, Coastal Home Services can help! With decades of experience serving homeowners on the Crystal Coast, we're here to return comfort to your home. Our Trane® certified technicians can correct your HVAC issues and have your home back to normal in no time. Call us or contact us through the form below to speak to a team member within 15 minutes about how we can help you today. 
Services Provided in Beaufort
Coastal Home Services is proud to offer a variety of services to meet all your HVAC needs. We also have a 24 hour service line so you can call any time and get a response within 15 minutes (or less). 
Our services include:

New Installation on traditional systems and Mini Split Systems 

HVAC Duct Cleaning 

System Change Outs

Service Calls on All Brands of System 

Heat Pump Repair, and Maintenance

System Maintenance Agreements

Dryer Vent Cleaning 
Our NATE certified technicians can correct whatever HVAC issue is plaguing your home. We are Trane® certified and ready to help restore comfort to your home today.
Free Rust Grip Coating 
You can extend the life of your unit by up to 7 years just by getting Rust Grip protection! Rust Grip is a one coat encapsulation solution that seals the surface of your unit and protects it from moisture and other particles (like salt and dirt) that can cause it to rust. If you're from Beaufort, you know just how the salty air can affect things outside. 
Coastal Home Services is proud to offer Rust Grip protection free of charge with the purchase of a new HVAC system but if you do not need a new unit, call today to request your free, no-obligation consultation for the Rust Grip coating.   
HVAC Replacement Services
It is sometimes hard to tell when you should have your HVAC system replaced. There are several key factors that you should look at when doing a quick analysis of whether or not you need a new HVAC system. If you believe that you may need a new system installed, one of our professionals will examine your current system and let you know if you do need a new system. Having new central heating and air unit installed will increase your comfort level by improving the system's performance and it will save you money by working less hard. Making sure that your system is functioning correctly is especially important in the Beaufort area as it can heat up quickly at the start of the summer months. If you are uncertain about the health of your HVAC system, call us to get a professional opinion on when you will need to replace it.
Annual Service and Preventative Maintenance Plans  
Coastal Home Services will keep your HVAC system in tip-top shape by providing annual maintenance for your unit. This service is available for residential and commercial units along the Crystal Coast. You can rest easy with this plan because a trained service technician will come out and check your system twice a year. They typically schedule these checks in the spring and fall before extreme hot and cold temperatures arrive to make sure you are prepared. 
While there, if a technician feels you need additional services or a part replacement, they will notify you and you can decide if you'd like them to service you while there. This is a great option for peace of mind and is also great if you own a vacation or rental home in Beaufort. You can rely on Coastal Home Services to keep your system up and running from afar.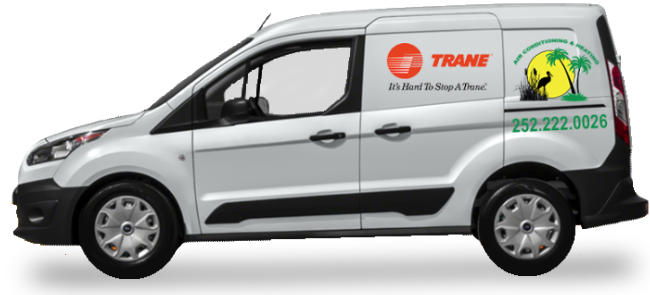 The Best for Beaufort 
South of the center of Carteret County and is located on the channel leading south to the Atlantic Ocean. In 2012, Beaufort was ranked as "America's Coolest Small Town" by readers of Budget Travel Magazine.  Did you know that Beaufort is the third oldest town in North Carolina? It was incorporated just after Bath and Edenton. The town may be old, but your HVAC unit doesn't have to be! Coastal Home Services is proud to service Beaufort along with all of Carteret County. We've been family owned and operated for 13 years and have 35 years of experience. You can count on Coastal Home Services when things get too hot or too cold in your home or business. 
Air Conditioning Repair Service in Beaufort, NC
Having a fully functional and efficient air conditioning system is imperative if you own a home in Beaufort, NC. We all know just how hot summers are here and how important it is to have a cool escape on a hot and sunny summer day on the coast. If you have noticed that your AC system is struggling to maintain a comfortable temperature in your home, it may be time to request air conditioner repair service in Beaufort. Our team of certified HVAC technicians will be more than happy to inspect your HVAC system and determine what is causing your air conditioning to fail.  In some cases the problem can be solved with a simple repair while in other situations it may be more cost effective to replace the system all together. If you have any questions about AC repair services in Beaufort, NC contact Coastal Home Services today. Not only will we repair your system, we will also do our best to save you money on your repair or installation.